Due to the growing uncertainties caused by our current restrictionist immigration policies, together with widespread concern for our national security, US immigration law has become increasingly more complex.

Now more than ever, applicants for US immigration benefits cannot take chances with a poorly prepared, less than perfect petition. USCIS, the Department of State and the US Department of Labor have all become much more stringent about the proper forms of evidence to establish eligibility and are much more likely to anchor denial of cases on a mere technicality. Finding the right immigration attorney is crucial to a successful outcome.

With over 2800 cases filed, The Law Office of Julia Lamanna takes great pride in its standing as having one of the highest initial application approval rates in the industry.

We are a distinguished immigration law firm headquartered in New York City that represents individual, institutional, and business clients across the United States and in several foreign countries. By focusing specifically on immigration law, our office provides superb professional services to clients by implementing solutions for all of their immigration needs.

The Law Office of Julia Lamanna is further committed to providing personalized and quality representation in an efficient and cost effective manner. Because of our emphasis on the attorney/client relationship, we are able to provide exceptional services; continually updating our clients and making certain that they are fully informed of the progress of their case at all times.

We look forward to the possibility of serving you and helping you achieve your personal and professional goals.
About Julia Lamanna, Esq.: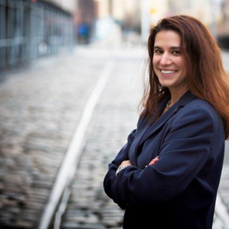 Born of Italian parents who first crossed the ocean in 1959 to realize the American dream, Julia Lamanna's respect for the immigrant's journey is in her blood.

It is for this reason that after receiving her Juris Doctor from Brooklyn Law School in May 1997, she immediately began practicing Immigration and Naturalization Law.
Prior to opening her own practice, Ms. Lamanna represented several multinational IT and telecommunications corporations in their US immigration matters as an Associate with the law firm of Sachs, Spector, Glasser and Waxman in New York City. Today, she represents a wide variety of clients from all walks of life, from small businesses to educational institutions to live-in nannies, families, investors, and entertainers.
Throughout her career as an immigration attorney, Ms. Lamanna has traveled extensively to represent clients at US Consulates abroad and has lectured at immigration conferences in both India and the UK.
She is a member of the New York State Bar and the American Immigration Lawyers Association (AILA) and is actively devoted to providing her clients with one-on-one, specialized attention to their immigration needs. Ms. Lamanna also holds a B.A. in Psychology from New York University (cum laude) and received her Maturita' in Foreign Languages from the Liceo Linguistico Esedra in Rome, Italy - a city she called home for several years.
She is fluent in English and Italian and conversant in Spanish.